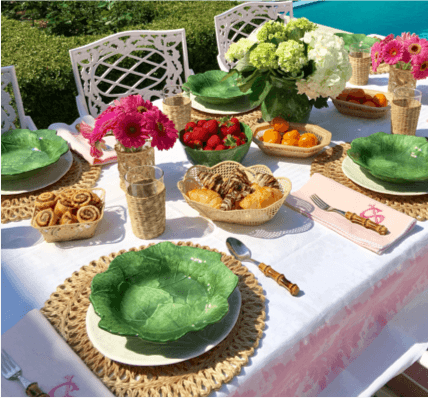 Capri prides itself on meals to enjoy, particularly through its great food and beautiful table settings. Gorgeous table linens and baskets filled with fruit, bread, or pastries beckon you to dine, while pretty colored glasses and decorative ceramics add the perfect accents. The casual ambiance and formal place settings combine to form an understated elegance that finds itself at home both by the pool and in the finest restaurants on the island. Bamboo growing naturally in Capri has provided inspiration for my own designs, with bamboo silverware emphasizing a casual ease to an otherwise formal place setting.
Cabana Capri – One of my favorite shops on the island is Cabana Capri, founded by Helen White, that features resort-inspired global luxe from tableware and home objects to kaftans and cashmere.
A walk down the Via Roma gives you a taste of fine local craftsmanship, such as The Sea Gull Capri for a fabulous collection of ceramics or Capri Masterpiece for incredible colored glassware.
Stateside, Artemeste does a great job of curating interesting and unique pieces from Italian sources, while Amanda Lindroth and Aerin Lauder never disappoint with their always beautiful baskets and tabletop items.